Makeup bag, Tropico azul.
SIMPLE & EASY
1. Send your shipping address with your order or to motaanddesign@gmail.com 2. Your order will be ready and send to your shipping address in 5/7 days or less.
WHAT'S INCLUDED
1. A handmade bag like in the pictures, 2 options: 1. Small 4×6 
(on this size is difficult to match all the colors)  2. Large 6x9 inches.
Please, READ.
• Size and design cannot be changed. • Colors may vary depending on your monitor. • Returns or refunds are not possible. Please ask any questions before purchasing.
THANK YOU! MOTAhandmadebag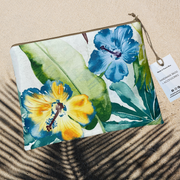 Makeup bag, Tropico azul.